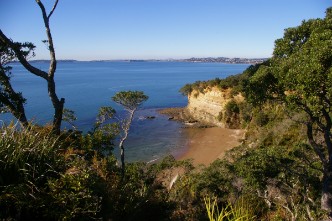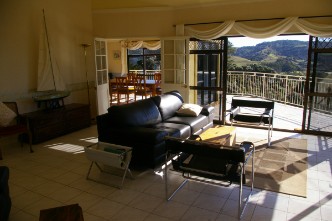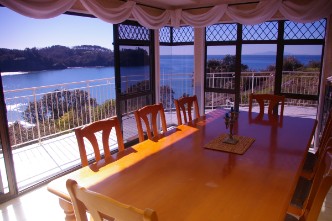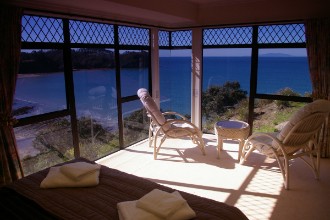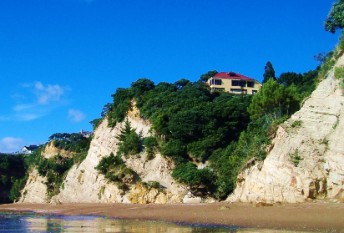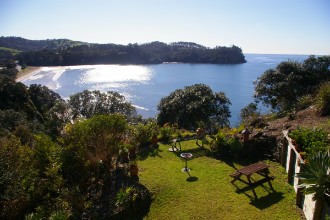 Moontide Lodge
Clifftop Bed and Breakfast at Hatfields Beach, Orewa, New Zealand
Moontide Lodge is situated high on a clifftop nestled in a grove of New Zealand native pohutukawa trees, with direct stepped access to the beach below, Hatfields Beach is a safe swimming beach
This Bed and Breakfast offers you a high standard of quality and elegance combined with outstanding 180 degree views of Hatfields Beach and the impressive sea views far beyond.
The three guest rooms
all offer different and memorable views of the breathtaking Hibiscus Coast scenery, the waters of the Hauraki Gulf, Great Barrier Island, the Coromandel Peninsula and Whangaparaoa Peninsula.
Moontide Lodge is located only 25 minutes north of Auckland and is the ideal first night's stay for visitors to New Zealand and a last stopover for travellers on their way south from the Bay of Islands.
The nearby seaside resort township of Orewa has many cafes and restaurants for your enjoyment and is a convenient 3 minute drive away, at low tide Orewa can be reached by a pleasant half an hours walk along the sea side.
The Waiwera Thermal Hot Pools are a 3 minute drive away.
Your host Neil enjoys boating, fishing, and has interests
in ceramics and HAM radio.....email us for a DX transmission
time.
Come and enjoy your stay in this friendly and relaxed lodge.
Host Neil
Address 19 Ocean View Road, Hatfields Beach, Orewa
New Zealand
Ph 09 - 427 9030
Mob 021- 058 1745
2 bedrooms with ensuite, 1 with private bathroom
Pricing From NZ$175 per room
with a generous continental breakfast
(please refer pricing page for details)
Payment Cash, Direct credit or Pay Pal
Internet Free wireless connection available
Smoking Outside only
Children Due to its clifftop location Moontide Lodge is
unsuitable for children under 12
Safety High cliffs pose natural dangers, for your safety
do not proceed near cliff edges
Check In After 4 pm
Check Out Before 10am